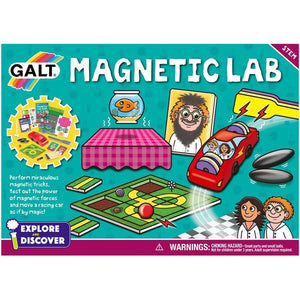 Galt Magnetic Lab
£16.00

£16.00
Tax included.
---
---
Explore the mind-blowing power of magnets! Did you know you could make rattlesnake sounds with magnets? You can even drive a racing car without touching it. Magnets can even be used to perform an amazing levitating trick! This pack is full of surprising new things to discover about magnets.
As you investigate all the different experiments in the magnetic lab you'll find even more to explore. You can design mazes then run your magnetic marbles through, and create hairy faces! The magnetic lab contains in total, ten marvellous magnetic experiments.
Suitable for children aged 6 years and up
PLEASE NOTE: Due to updates in Galt's cover art etc. this product may differ slightly from the image shown.