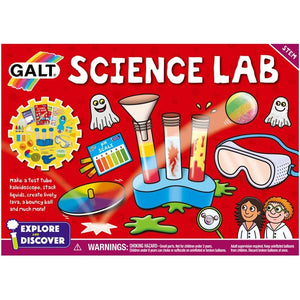 Galt Science Lab
£16.00

£16.00
Tax included.
---
---
Create a floating ghost, engineer your own bouncy ball from scratch, and bend light itself with a test tube kaleidoscope. There's even more to discover as well; learn to stack liquids, make some lively lava, and you can even play a scary skin crawling game.
This Science Lab includes 20 enthralling experiments. The Galt Science Lab is part their exciting new 'Explore & Discover STEM' range.
Suitable for children aged 6 years and up
PLEASE NOTE: Due to updates in Galt's cover art etc. this product may differ slightly from the image shown.