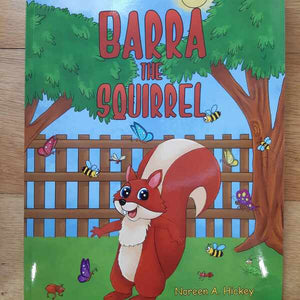 Barra the Squirrel by Noreen A. Hickey
£8.99

£8.99
Tax included.
---
---
A lovely illustrated children's book by Perth based author and poet Noreen A. Hickey
How lovely to introduce a child to a beautiful world, full of fun and charm! Why not let Barra the Squirrel, his little friend Cairn and their much-loved band of chums entertain you? There is many a moral to be found in the story of friendship, tolerance and understanding. Although aimed at reading to the tiny child, it's a lovely book to read, re-read and treasure over the early years.
Their adventures take the reader and listener to a world of joy. Leading to the understanding that, no matter what, friendship and love will triumph over all. In particular, that if respect is given to everyone and their differences, it will be a happier world.