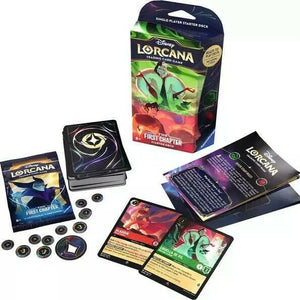 Lorcana Starter Deck Emerald and Ruby
£18.00

£18.00
Tax included.
---
---
Lorcana is a Disney themed TCG (trading card game) from Ravensburger. This starter pack is one of three launched for the First Chapter.
The Disney Lorcana starter deck includes everything you need to start playing against another player who has their own deck. Through these decks, you'll get a taste of the rich story and varied characters of Disney Lorcana. Each deck has 60 cards and features two ink colors with distinct play styles. If you're new to trading card games, or if you want to experience the game with a deck designed and tested by Team Lorcana, this is a good place to start.

This starter deck combines the action-oriented boldness of Ruby character glimmers, who dash forward with speed and bravery, with the adaptable and deceptive nature of Emerald character glimmers, who use their quick wits to surprise opponents. Play this deck if you like using trickery to find victory. Each player needs a Disney Lorcana deck of at least 60 cards to play. Disney Lorcana can be played by 2 or more players ages 8 and up and takes about 10 minutes per player.
-Starter Pack Contains: 1 Starter Deck of 60 cards - including 2 foil cards of the characters on the package front (Cruella and Aladdin), 11 Game Tokens, 1 Rule Book and 1 Booster Pack containing 12 randomised cards
-The game is recommended for ages 8 years and up