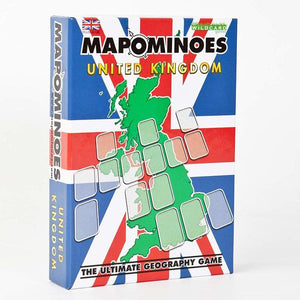 Mapominoes United Kingdom
£10.00

£10.00
Tax included.
---
---
The Ultimate Geography Game

It's like dominoes but with maps, as you build a map of the United Kingdom by connecting counties that share a common border. Stay one step ahead of your opponents as you race to be the first player to play all your county cards on the table and win this exciting geography game.

Block access to the Scottish Borders by holding on to Northumberland or Cumbria or open up Wales by playing Powys. Take a boat through the Irish Sea to Northern Ireland or transit by train through Surrey to Hampshire or Berkshire.

Try not to get cut off in Cornwall, stuck on Shetland or isolated on the Isle of Anglesey, as the county cards spread across the table.

The excitement builds as you have fewer and fewer cards left to play and less space to play them as you reach the tables edge.

No geography knowledge required, but you learn as you play!

-Ages 8 to Adult
-For 2 to 5 Players

A great game from Wild Card Games.