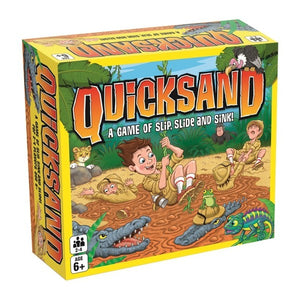 Quicksand Game
£14.00

£14.00
Tax included.
---
---
A great game for little adventurers… but don't get sucked down into the quick sand!

Players will have to race their adventurers through the jungle to get them, or what ever remains left of them, to the finish camp! Along the way, the adventurers will have to slide down mudslides, swing ahead on hanging vines, grab handholds and rest on safe rocks to keep high and dry. All along the track quicksand pits lie in wait to suck the adventurers down and down and down, piece by piece!

This great family game contains unique sinking play piece and is perfect for any occasion. Players can play to get their adventurers to the finish first or tactically to 'take down' your fellow players!

-Suitable for ages 6 years and up.
-For 2-4 players.