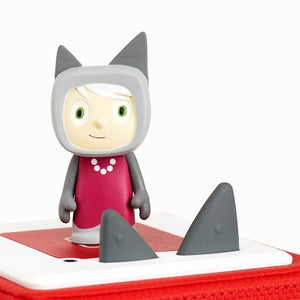 Creative Tonie Grandma
£11.99

£11.99
Tax included.
---
---
Place a 'Creative Tonie' on your 'Toniebox' to hear something very special. A personalised, customisable, simple to access, audio experience for children. Record a story, a song, or a simple message (or set of messages), then link it to the Creative Tonie using the app. Now that Tonie will play your custom recording every time it's placed on the Toniebox*.

It can be fun to use your Creative Tonie to represent whoever recorded the message. This 'Grandma' Tonie would be a perfect character to hold Granny's stories as she sends them along to the grandchildren.

Available Running time with this Tonie: 90 minutes

Suitable for children aged 3 years and up

This is one of a large selection of 'Tonies'. Tonies are toys that link to a 'Tonie box' to play stories, songs, and other audio. A fun, screen-free, source of entertainment for any child.

*SPECIAL NOTE: In order to record your message, you will need the Tonie App (available free for iOS from version 9 and Android from version 4.4), as well as a Toniecloud account (easy to set up and linked to your Tonie box).

PLEASE NOTE: In order to play this Tonie you will need a Toniebox and a Wi-Fi connection.