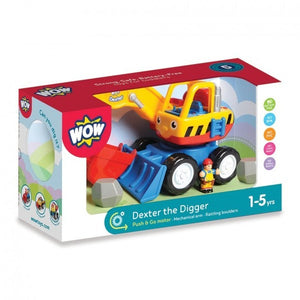 WOW Dexter the Digger
£42.00

£42.00
Tax included.
---
---
An incredible help on any building site, Dexter the Digger's big bucket makes light work of any digging that needs to be done, or boulders that need to be moved. His digging arm is the perfect size for small hands to manipulate and Dexter also has a friction-powered motor so he'll trundle along happily with a bit of a push (and no need for batteries).

Includes: Dexter the motor-powered digger, two rattling boulder accessories, and a construction worker Play Friend.

This great wee toy is suitable for children aged 1 year and up (though children as old as 5 or 6 will still enjoy playing with it)

WOW toys are a fantastic BATTERY FREE range of toys which use push-along friction motors and similar mechanisms to create movement and sound. Just as much fun as a battery-powered toy but without the hassle of changing batteries.

The focus of WOW toys is always on the pretend aspect and the range means that with just a few WOW toys you can have your own wee world to play in. WOW have been a favourite toy at Fun Junction for years, we hope you enjoy their toys as much as we do.