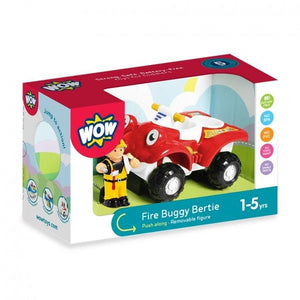 WOW Fire Buggy Bertie
£12.00

£12.00
Tax included.
---
---
Race to the rescue with Fire Buggy Bertie and his fireman friend. Add drama and heroism to your pretend-play as Bertie comes to the rescue. Bertie is an off-road vehicle so he has a fun bumping feature meaning that as you push him along you'll see him bump around on his suspension.

(Please note that Bertie is one of a handful of WOW play vehicles which do not feature a friction motor. Instead, Bertie has a unique bucking suspension feature which makes it feel like he is driving along a bumpy dirt track)

Includes: Bertie the push-along fire buggy, and his Fireman Play Friend.

This great wee toy is suitable for children aged 1 year and up (though children as old as 5 or 6 will still enjoy playing with it)

WOW toys are a fantastic BATTERY FREE range of toys which use push-along friction motors and similar mechanisms to create movement and sound. Just as much fun as a battery-powered toy but without the hassle of changing batteries.

The focus of WOW toys is always on the pretend aspect and the range means that with just a few WOW toys you can have your own wee world to play in. WOW have been a favourite toy at Fun Junction for years, we hope you enjoy their toys as much as we do.